Our thanks & gratitude to Paul Ragnetti
Soon you will be receiving the notice for our semi-annual club meeting, and also a ballot for positions on our board for the club. On it you will not see a name that has been part of our lake community for many years. Paul Ragnetti has served as a Trustee and the President since 1972, but has decided not to run this year for personal reasons. I just want to thank Paul for his hard work and guidance over the years, and for his support on too many projects & challenges to list. In many ways big and small Paul has touched many lives in our community. We wish Paul and his family the very best and we want him to know we will miss him. Michael Whitaker who has worked closely with Paul has agreed to step up and take the lead position now. Warm Regards Paul, I will miss your leadership and direction.
Fondly,
Andrea "Bunny" Cocula Secretary/Treasurer.

DAM PARKING
Hello members ~ we will be changing the combination at the dam gate on May 31st.
YOU need a new 2019 parking pass to go on the dam.
Please fill out the information below and I will make you a NEW parking pass with the combination on the back of your pass.
This is to protect all of us from people that are NOT members and NOT invited guests of members.
This is an Insurance issue & protects all of us.
Your account needs to be paid in full to use any of the club's facilities.
~~~~~~~~~~~~~~~~~~~~~~~~~~~~~~~~~~~~~~~~~~~~~~~~~~~~~~~~~~~~~~~~~~~~~~~~~~~~~~~~~~~~~~~~~~~~~~~
I need your vehicles:
Make: Make:
Color: Color:
License plate: License Plate:
~~~~~~~~~~~~~~~~~~~~~~~~~~~~~~~~~~~~~~~~~~~~~~~~~~~~~~~~~~~~~~~~~~~~~~~~~~~~~~~~~~~~~~~~~~~~~~~
If I do not receive this information I will NOT be able to process a new parking pass for you.
You can email this back to me OR drop the information in my mail box.
Questions please call me at 973-222- 8915, thank you for your cooperation ~ Bunny
Make a Difference in Our Community:
*** Vernon Township Ambulance Squad Volunteers Needed ***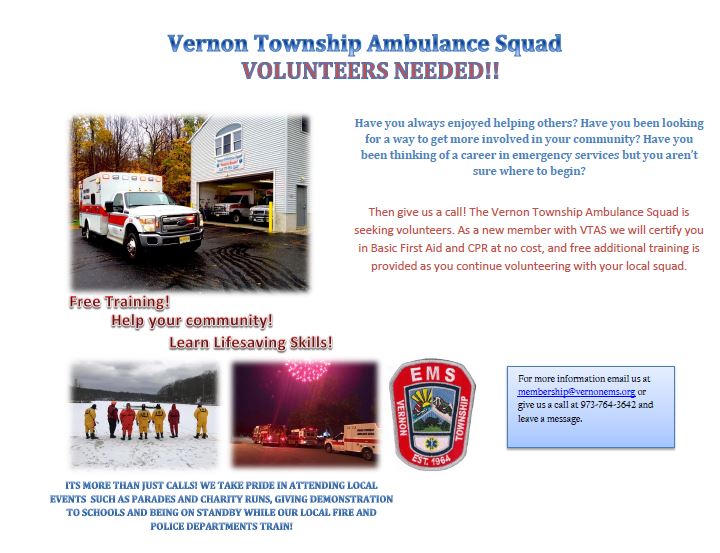 Dues
2019 Membership Dues of $140 are due March 1st. If the account is current and paid in full by March 15th, the dues are only $100 for 2019.
Recycling Schedule
Find out when you can recycle hazardous waste, electronics & other special recycling services in the 2019 Recycle Schedule.
Parking at the Dam (Members Only)
Hello Members ~ if your account is paid in full and you want to use the dam for fishing or bringing your boat to put it into the lake you need to fill out this application and either drop the application off in my mailbox or email it back to me. If there are NO changes since the last time you filled out an application, mark it "no changes" and return it to me. I will make you a parking pass with the NEW combination laminated on the back of the pass. I will not make a pass if you do NOT apply. Thank you very much for your anticipated cooperation. ~ Bunny ~
SCMUA American Flag Retirement Program
Celebrating its 5th year, flag retirement ceremonies are conducted by the Sussex County Municipal Utilities Authorisy (SCMUA), in a joint partnership with the Sussex County American Legion, Veterans, local Scouts, and Abbey Glen Pet Memorial Park staff. Please see the video provided on the SCMUA website regarding the SCUMA American Flag Retirement Program. The video, filmed by Booth Crew Productions, demonstrates the importance of properly disposing American Flags in an environmentally sound manner.
As a result of this program, over 4,750 pounds of flags that have been collected at the SCMUA Recycling Center are subsequently properly incinerated under State and American Legion guidelines. The ashes of the retired flags are interred onto the graves of fallen service men and women at the Northern New Jersey Veterans Memorial Cemetery. The goal of the program, and this informational video, is to renew awareness of the need to provide environmentally sound alternatives for the final disposition of our national symbol.
Recycling Cartons
Did you know you can include cartons in your recycling? Check out the SCMUA flyer for details.
NJ State of Emergency
Declaring a state of emergency allows states to qualify for federal funds that can be used for immediate response and recovery. It also puts the New Jersey National Guard and state agencies on notice to provide any assistance they can to local cities and towns. A state of emergency does not require residents to take any action. It also does not mean there is a travel ban in place – although the State Police did enact a commercial vehicle ban on interstates 78, 80, 280, and 287.
Contact Us
Do you have an idea to share? We would love to hear it. For any questions or comments please contact us. We'll be happy to hear from you!